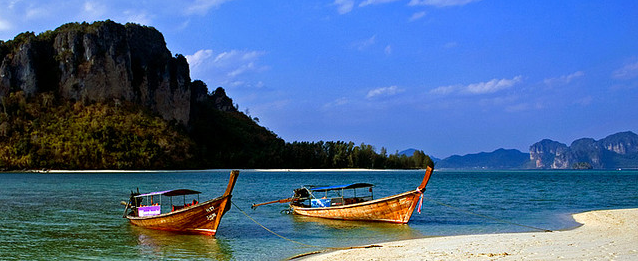 Family
Planning an overseas family holiday for under $10,000
Planning a holiday for a family can be an exhilarating yet terrifying experience. Once you add up the costs of transport, accommodation, tours and meals, the total price of the holiday can quickly add up into a fearful amount. But if you take your time and shop around, you can find some great family holiday options which won't break the bank. If you think you might need some additional financial assistance to make your holiday just that little bit more special, you can consider applying for a low rate holiday loan to ensure that you and your family will have the trip of a lifetime. Here are our top 3 overseas travel destinations which are perfect for the frugal family and should keep the budget under $10,000.
Thailand
One of the most popular destination for Aussie families, and for good reason. Thailand is cheap, beautiful and family friendly. The ever smiling Thai people are always welcoming and your kids will love cruising around in tuk tuks, viewing spectacular temples and playing with monkeys and elephants. Return flights from Sydney to Bangkok can be as low as $700 AU if you can jump on a sale, so be sure to subscribe to all the major airlines so you don't miss out. Use accommodation sites like Agoda to find the cheapest deals on accommodation and trip advisor will keep you clued in to all the cheap family friendly restaurants to visit.
Bali
You can't walk the streets of Bali without spotting an Aussie family. Bali is the perfect mix of beauty and affordability. Whether you choose to grab a hotel in the hustle and bustle of Kuta or a relax in one of Seminyak's majestic family villa's there are a range of cheap family accommodation options which cost a fraction of what you would pay for the same in Australia. For cheap package deals on Balinese family accommodation have a look at group buying sites; Scoopon or Groupon. Flights to Denpasar leave from all major capital cities and can and range from as low as $300 return in off peak periods making it an extremely affordable family holiday destination.
Samoa
Revered as one of the jewels of the Pacific, rich with Polynesian culture, white sandy beaches and stunning turquoise waters. The kids will love exploring coral reefs and snorkeling with marine life at stunning destinations like Palolo Deep Marine Reserve, on the Northern shore of Upolu. There are daily flights from Sydney ‰ÛÒ to Apia which you can get from as little as $500 return if you are happy to go in off peak times and subscribe to airline sales emails.
For the most cost effective holiday, small concessions like booking early and avoiding peak travel times can save you a significant amount. Make sure you do the sums on package deals because if you shop around you can often find a bargain. Plenty of restaurants offer deals where kids can eat for free, pack your own snacks on long trips to avoid unnecessary spending and explore beaches and walking tracks instead of theme parks and other forms of expensive entertainment. Planning a family holiday on a budget can be a real challenge for many families, take the time to research and plan each day's activities and the saving's will soon add up. If you do need a quick cash boost to help ease the financial stress of an upcoming holiday, take a look at additional holiday finance solutions including a low rate personal loan or a credit card with a reasonable interest rate.